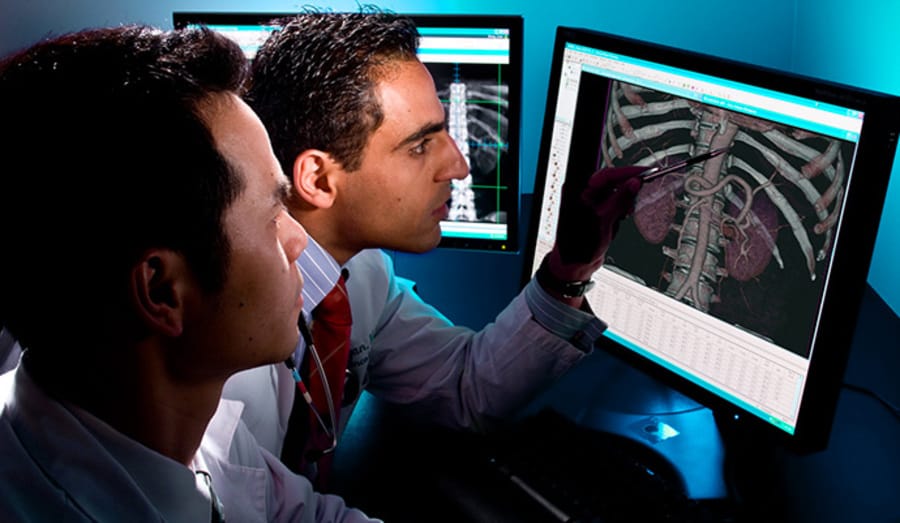 Beverly Hills Cancer Center Rated #1 Radiology Clinic & Imaging Center
Beverly Hills Cancer Center (BHCC) has been rated the #1 radiology and imaging center in expertise and is also ranked among the top 3 clinics in Los Angeles by GCR (Global Clinic Rating). It is indeed a prestigious moment for this progressive cancer clinic that has also been ranked among the top 10 global radiology clinics and hospitals by the same accreditation body.
"We would like to thank our comprehensive team for offering leading-edge treatment and dedicated care to our patients", said Dr. Ari Gabayan, Medical Director of Imaging.
Radiology and imaging services are integral for accurate cancer diagnosis and treatment. Achieving expertise in this crucial domain is certainly praiseworthy as the action plan of cancer treatment is primarily based on these reports.
GCR is the fastest growing accreditation service providing ratings to more than 432, 368 clinics across the globe. Its rating is highly reliable as it is based on more than 100 carefully calibrated performance indicators producing a near-to-accurate comparison of the global healthcare clinics taken into study. Choosing the right clinic is more important than the cost of treatment. In this respect, GCR rating can guide the patient in assessing what constitutes a good clinic.
GCR rating of clinical expertise includes the period of existence of the clinic at that particular location, its accreditations, awards and recognition, advanced technology-based medical treatments and services offered and track record of the physicians taking into account their academic credentials and professional accreditations.
A total of 640 Radiology clinics and Imaging centers in California featured in the 2018 GCR survey of quality service. In the GCR scoring range of 1-5 stars, BHCC rose far above the rest by scoring 3.85 against the average score of 3.20 received by other clinics.
Beverly Hills Cancer Center offers comprehensive treatment for all types of cancer. The facility is complete with a multitude of amenities that a patient may need. The aim is to cure every patient irrespective of the severity of cancer. The center follows a unique model of treatment and care, erasing much of the fear from the patient experience.
The entire BHCC team strives to heal each and every patient. But technological innovations alone cannot do that unless there is a compassionate human touch throughout the patient experience. The center has successfully instilled the immense value of human interaction in cancer treatments which the team feels is crucial for healing.
Even if the cancer is not curable, BHCC with its unique capabilities strives to transform it into a manageable chronic condition, allowing patients to lead a normal life.
The center is aware that time is of the essence for life threatening diseases like cancer. Efficient and effective service can make all the difference in saving lives.. The Los Angeles facility provides modern medical treatment complete with state-of the-art radiology technologies and complete cancer treatment modalities, with same day results, enabling patients to diagnose and begin treatment immediately.
BHCC provides complete care, treataing the whole patient – taking the patient's mind, body and soul into consideration. The center works in reunifying the patient's body and mind with technologically advanced medical treatments and alternative recuperative therapies. Such an exceptional combination of treatment and care makes this cancer center stand out among other centers of its kind, as seen with the top GCR rankings.
In addition to cancer treatment and healing, BHCC believes in early detections and d on the power of prevention, empowering patients to take charge of their own health. As a proponent of cancer screening and prevention, the center takes appreciable efforts in offering personalized cancer screening programs after an in-depth risk analysis of the patient's genetic profile, family and medical history, and risk factors.
The center is also marching ahead with cutting-edge clinical trials in immunotherapy and targeted therapy giving patients the opportunity to participate in these trials to open up new avenues for cancer treatment and prevention.
The positional advantage and overall layout of the comprehensive center is certainly a major advantage working in favor of patients from within and outside US. The soothing ambience and cozy private treatment chambers open to natural light offer a great comfort level to patients fighting a tough battle.
International patients including the non-English speakers also experience the same level of ease and comfort as they walk into the clinic. The top level concierge services and language support by professional interpreters/translators available ensure that the international patients do not face any inconveniences.
Cancer needs to be conquered. Dedicated efforts from Beverly Hills Cancer Center may someday ensure a cure for every cancer allowing patients to live a life full of hope.